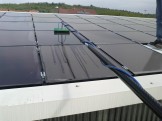 In the summer of 1994, the PV Laboratory of HTA Burgdorf has done a test for solar panels on which strips of dirt developed due to pollution. This dirt had caused a loss of yield of the panels up to 10%.
The test wanted to show how important is the cleaning of the solar panels in order to avoid substantial yield losses.
VIP Clean
provides attached the original text of the study presented at the
2nd World Conference on Photovoltaic Solar Energy Conversion
(Vienna, 1998). This research provides the theoretical foundation that has enabled the
VIP Clean
cleaning equipment to produce PV panels professional and efficient cleaning systems, followed by new versions thanks to a constantly updated to respond to every need and type of cleaning.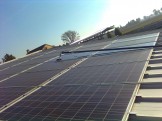 VIP Clean proposes a study to demonstrate the economic and technical convenience in terms of cleaning the solar panels, presenting several cases of dirt and cleaning solutions to avoid a significant loss of energy and money.